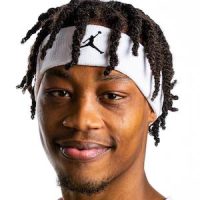 Are you Alondes Williams?
PLAYER RANGE: NBA Starter - NBA All-Star
PLAYER COMPARISON: Derron Williams
UNDENIABLE SKILL: Dribble penetration, passing
STRENGTHS: Williams is great at getting by his defender with the live dribble. He has a tight handle on the ball and a big frame to utilize to create an advantage. He puts tremendous pressure on the defense with his ability to stay in the painted area. Williams can make high level reads on defensive rotations and make incredible skip passes to teammates from seemingly improbable angles and distances. Williams has a plus athletic profile oftentimes making highlight rim rocking dunks and grabbing grown man rebounds. Williams has the unique ability to play within his own pace and create opportunities for others.
CONCERNS: Older prospect, will be 23 years old by the time of the draft. May be more of a finished product with limited room to advance. Jumper is still a work in progress.