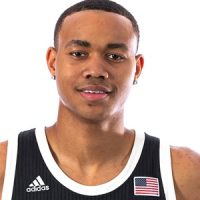 PLAYER RANGE: NBA Rotational Player -NBA All-Star
STRENGTHS: McGowens has a natural feel for scoring the basketball. He has a nice handle and is a smooth shot maker. Can break defenders down or get to the rim attacking closeouts. McGowens shows great potential creating his own shot and has the tools that could help develop into a prolific scorer. McGowens is a solid athlete that can make plays at the rim. McGowens exhibits the unique ability to routinely draw fouls by putting defenders in compromising positions.
CONCERNS: Defensively, McGowens underwhelms especially considering his 6'7″ frame and above average length and athleticism. He has the tools to make for a formidable perimeter defender but seems to lack the mental makeup to thrive on that side of the ball. He could stand to get stronger and add muscle to his frame to become a better player on both sides of the ball.