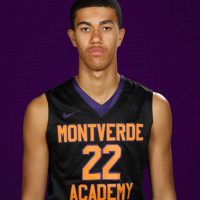 PLAYER RANGE: High level International player - NBA Contributor
STRENGTHS: Houston has a picture perfect looking jumpshot. He has great form and mechanics on his release. Houstan displays a real sense of urgency to run in transition to get easy baskets. Houstan has displayed the ability to make good decisions and reads with his passing ability. Houstan routinely makes the optimal pass that the situation calls for when probing the defense.
CONCERNS: Playing off the bounce is a struggle. Not nearly enough wiggle with his dribble to effectively create scoring opportunities independent of others creating for him. Below average functional athleticism for his size to make much of a meaningful impact offensively or defensively on the next level. Houstan just has not played well thus far in his short tenure at the University of Michigan. He has failed to live up to the billing of an elite shooter that many perceived him to be.