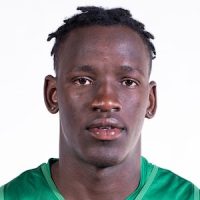 Are you Ibou Dianko Badji?

PLAYER RANGE: NBA Starter - NBA All-Star
PLAYER COMPARISON: Mitchell Robinson
STRENGTHS: Badji is a big time rim protecting asset. He alters or reroutes a great deal of shots with his presence under the
basket
. He also serves as a big time lob threat. Badji can also score with his back to the
basket
a bit. Badji is a freakish athlete for someone his size. Finishes violently at the rim. He rolls hard and plays with a high level of intensity. Displays nice touch around the basket on jump hooks.
CONCERNS: Badji is a very raw prospect. He is still learning how to play basketball on a high level. Badji's motor can be a bit inconsistent playing extremely hard some possessions and others taking plays off.
[custom-twitter-feeds screenname=""]