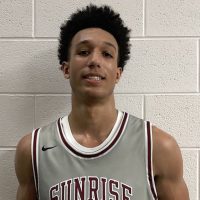 Sunrise Christian Academy


PLAYER RANGE: NBA Starter -NBA All-Star
PLAYER COMPARISON: Shawn Marion
UNDENIABLE SKILL: Freakish Athleticism
STRENGTHS: Brown has freakish athleticism and great defensive instinct and ability. Very quick feet and lateral movement gives him the physical tools to thrive as a defensive nightmare. Plays passing lanes well. Great finisher. He's the type of player that championship teams are comprised of. Ultimate utility player.
CONCERNS: While shooting 50% from beyond the ark thus far this season albeit on a very low volume there are some questions surrounding Brown's ability to stretch the
defense
at the pro level at a higher clip. Brown doesn't seem to possess the ability to create
offense
for himself outside of offensive rebounding.
[custom-twitter-feeds screenname="TheeKbrown"]