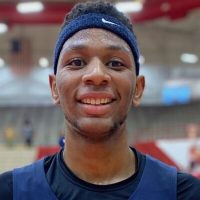 Are you Jalen Washington?

PLAYER RANGE: College High Major Contributor - NBA Rotational / High Level International Player
PLAYER COMPARISON: Channing Frye / Bobby Portis
UNDENIABLE SKILL: Offensive versatility
STRENGTHS: Stretch four college ready body at 6-9 and a huge wingspan .Can score on all 3 levels with the ability to make plays at times for others.
CONCERNS: Must continue to show the ability to play with a higher motor throughout each game.